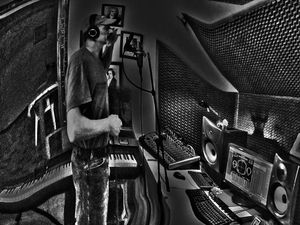 Bio
Cosmic Order, the brainchild of vocalist and multi-instrumentalist Angelo Silvio DiPippo, is a product of years of work as a writer, engineer, producer and performer.
DiPippo's personal experiences from his tough childhood and extensive travels - from the war zones of Iraq and Afghanistan to the raw beauty of the Sicilian countryside - have given him jagged insights into the joys and tragedies of the human condition.
Those experiences led him to believe that spirituality, art and music are the only things that can transcend the tragedy of this world.
On his debut album, "Songs Of Love and Darkness,"  DiPippo drew from his love of Classical music, Hard Rock, Jazz and Metal, blending those genres with his personal experiences to create something original, powerful and timeless.
On his followup album, "Duality," he explores the contrasting flavors of life's experiences and the emotions they cause in all of us; feelings of love, hatred, triumph, disappointment, longing and expectation. It is DiPippo's belief that throughout all of life's vicissitudes, the one True thing is Love and in that sense, only Love is real. It is everything.
"Duality" features DiPippo on vocals, bass, drums and keys. He is accompanied by the stellar guitar playing of Michael Fitzgerald, whose unique, broad style and masterful technique rockets Cosmic Order's latest album to formidable, musical heights. Enjoy "Duality." Enjoy the ride. . .